Being a nerd is not about what you love; it's about how you love it.
I'm a runner and a sock nerd, and in four days, I'm running a half-marathon (eek!).
Here are some reflections on socks because if there's one thing every runner knows it's: socks. matter.
Join the Darn Tough sock cult. ¶
Darn Tough makes merino wool socks prized by hikers, runners, and buy-it-for-lifers because they're guaranteed for life.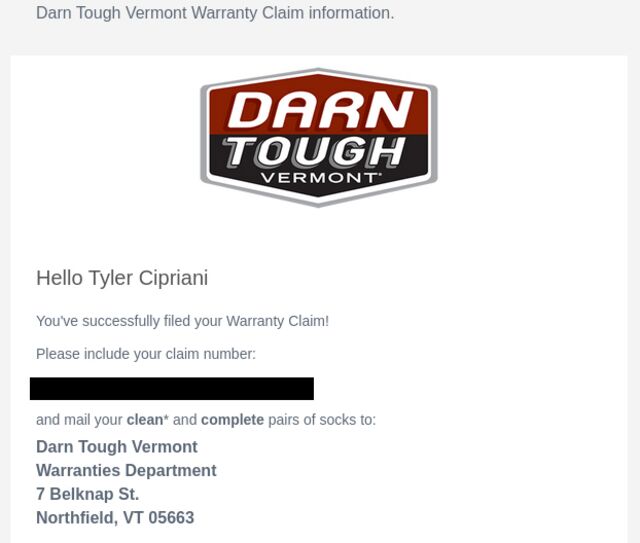 According to my Amazon order history, I ordered five pairs of "Darn Tough Merino Wool Double Cross, No Show Tab, Light Cushion Sock Molten Large" socks in 2016. Today, six years later, I'm wearing a pair of the socks I ordered in 2016, and they're great.
And in all this time I've never used their warranty program, but I decided to try it out on a particularly worn pair—we'll see how it goes!
About compression socks ¶
Why? Because squeezy is good.

– Peter Sagal, Host of NPR's "Wait Wait… Don't Tell Me!"
Compression socks supply support and structure. And it makes them a joy to wear—even when you're not running.
Initially, compression socks emerged to support circulation in the legs of diabetics. But now savvy runners sport them to capitalize on numerous studies claiming they aid performance and recovery (although who knows what the control is in those studies).
I own two colors of CEP Progressive+ Run 2.0—basic black and caution-tape yellow.
These socks are made of nylon (mostly) which massages my calves, keeping my blood flowing on my recovery days. I've owned these socks for years and wear them weekly.
But it's not all cozy, compressed joy:
💸Compression socks are too expensive—mine cost $65 a pair!
🧐 The socks come with instructions about how to put them on
🛂 You need instructions to put them on
Avoid cotton socks ¶
90% of everything is crap
Most socks are crap for running because most socks are cotton.
But cotton is the wrong material for socks for the same reason it's the right material for towels. Cotton is absorbent—it holds water and doesn't release it. The sweat trapped between your foot and your cotton sock can cause blisters while running or hiking.
In contrast, technical socks tend to be made of less absorbent material that dries quickly. So when you sweat, your sweat moves to the surface of the sock and evaporates before it gives you blisters.
I believed blisters were unavoidable—I tossed a roll of Leukotape in my firstaid kit and accepted that I'd use it often. But then I realized the real problem was my cotton socks.
You think about socks every day. ¶
"I don't want to make decisions about what I'm eating or wearing. Because I have too many other decisions to make."
Mental energy is precious. You should avoid misspending your limited mental energy on your socks.
You could argue writing a blog post about socks is the definition of misspent mental energy. But I believe it's when you're spending your mental energy that matters.
If you find yourself bleary-eyed, rooting around for the one good pair of socks in the drawer, then you're thinking about socks at the wrong time.
Spend your effort up-front.
Declare sock bankruptcy and find a brand of comfortable socks that you can wear in every situation, and then stock up.